(Last updated on January 9th, 2023)
AutoCAD or SolidWorks, which software is a better choice in 2023? Is there a clear winner between the two?
Read this ultimate AutoCAD vs. SolidWorks comparison to get all the answers.
AutoCAD is owned by Autodesk, while Dassault Systems own Solidworks. In the world of CAD, Autodesk is a household name, while Dassault Systems is less well known. However, Solidworks seems to be the shining star in the Dassault Systems software library.
I've never heard of any of their other software. Still, that doesn't mean Solidworks is inferior. In fact, you'll notice I have a LOT of great things to say about Solidworks over AutoCAD.
Note: AutoCAD LT does NOT have any 3D capability. So, don't buy LT, and expect to be able to create 3D models.
Short Verdict
Both AutoCAD and Solidworks are comparable tools. AutoCAD is better suited for general-purpose 2D and 3D drafting, while Solidworks excels in developing sophisticated 3D models and simulations.
There is no way to say one of these is superior to the other because it depends upon your requirements. Comparing AutoCAD to Solidworks is an apples-to-oranges comparison. If you are looking for a general drafting software that can handle a vast range of needs across different industries, then the clear winner is AutoCAD.
If you are looking for a CAD/CAM software to create machine parts in 3D and simulate their physics and motion, then go for Solidworks. Keep in mind that this article discusses AutoCAD, not Inventor by Autodesk. If you want an apples-to-apples comparison for Inventor Versus Solidworks, then click here.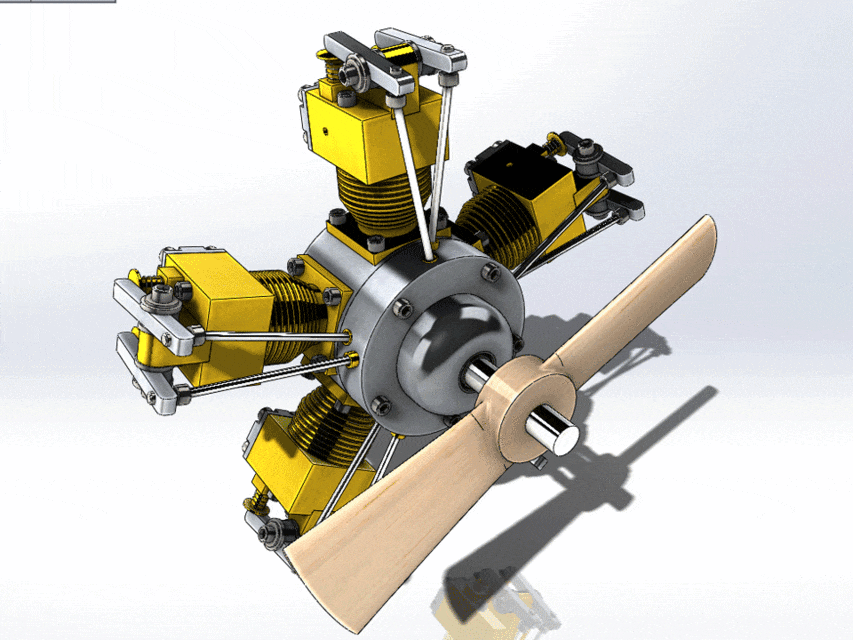 Get up to 70% Off on Top Products!
---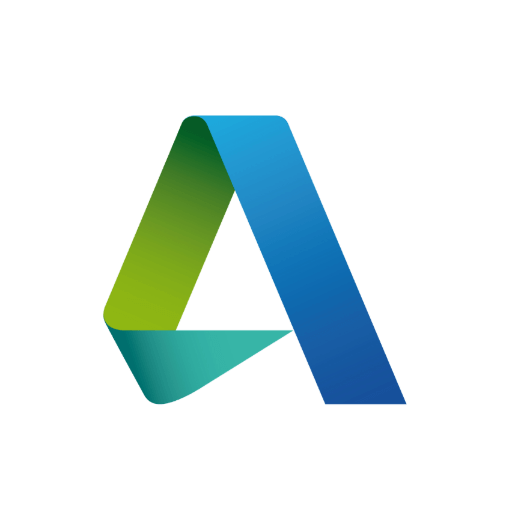 Autodesk
See the latest Autodesk deals, discounts, promotions, and bundled packages. Save up to 70% on top products!
at autodesk.com
---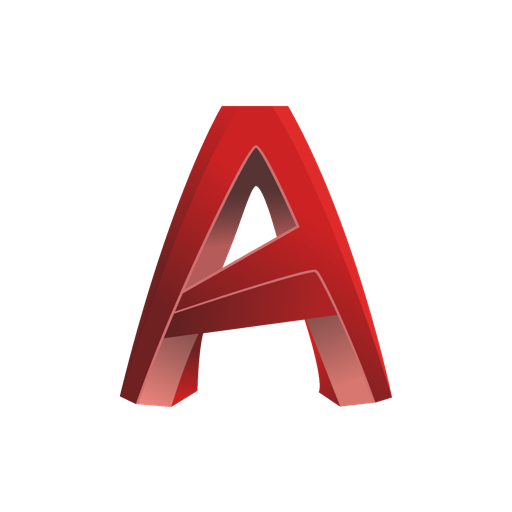 AutoCAD
AutoCAD is one of the most powerful 2D and 3D CAD software out there.
at autodesk.com
---
Maya
Maya is a 3D animation, simulation, rendering software for TV, games, and film.
at autodesk.com
---
Comparison At a Glance
| | | | |
| --- | --- | --- | --- |
| Criteria | Solidworks | AutoCAD | Notes |
| UI & Tools | Winner | NA | Solidworks has more 3D capability and specialized 3D tools |
| 2D Drafting | NA | Winner | AutoCAD's classic drafting method is better suited for 2D |
| Deliverables | Depends | Depends | (See below for details) |
| Price | Depends | Depends | (See below for details) |
| Viewing Apps | Tie | Tie | Both offer free viewing apps |
| Mobile Apps | Tie | Tie | Both offer mobile apps |
| Community | Winner | NA | The independent drafting community tends to like Solidworks. You can find a lot of independent social media content for training or cool ideas. |
| Training | Tie | Tie | Training programs are available in many formats, from direct training from the company to Lynda.com or udemy.com. etc. |
In-Depth considerations
1. UI and Tools (Comparing 3D Modeling Only)
Winner: Solidworks.
AutoCAD has the 3D capability and can model complex parts effectively using the classic AutoCAD user interface. There are a lot of commands in AutoCAD. They can be entered as keyboard shortcuts, keeping the mouse cursor where the action is intended instead of continually clicking toolbars at the edge of the screen.
I personally love this about AutoCAD. Solidworks also has plenty of tools, but you should expect to do more button-clicking. With ingenuity, you should be able to model practically anything in 3D with AutoCAD. However, Solidworks has many features that are specialized for parts and machine modelers. It is an incredibly innovative software that understands the needs of machinists and product developers. This makes Solidworks the clear winner in this category.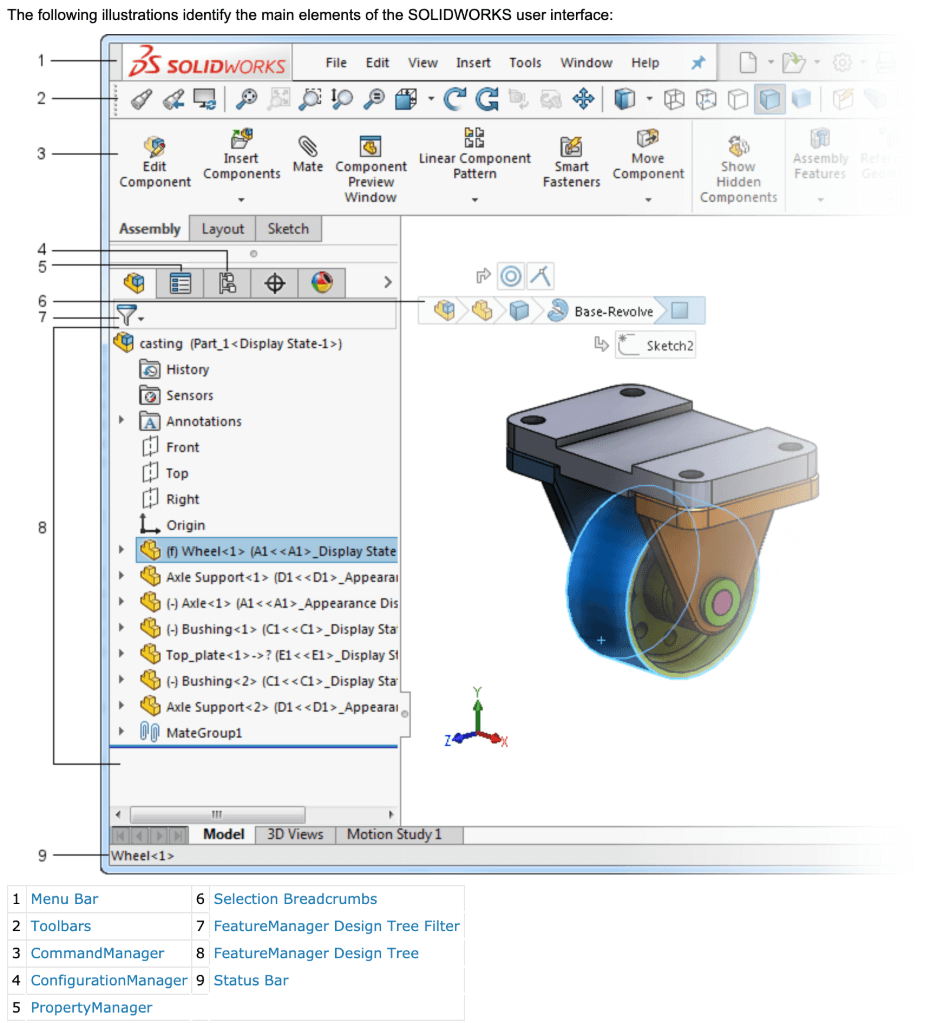 (Solidworks UI)
2. 2D Drafting
Winner: AutoCAD. While it may be possible to draw things like floorplans, sections, and details with Solidworks, it just isn't made for that purpose. Construction, civil engineering, and architectural draftsmen just wouldn't need 90% of the things Solidworks is designed for.
3. Deliverables
Winner: Depends (See Below)
What I mean by a "deliverable" is the finished intellectual product. How else can I phrase it? The "deliverable" is the reason you're creating these 3D models in the first place. If you're a professional, then whatever intellectual property you produce from this software is your "deliverable."
For example, if your goal is to make a part for a 3D printer, then your deliverable is an STL file. If you are making blueprints for a house, then your deliverable is a set of drawings a contractor uses to build the house. If you are working with a water-jet cutter, then your deliverable is a DWG file that the cutter can use to make cuts.
3D Printing File (STL, which stands for stereolithography) – Solidworks is more specialized for this deliverable, but AutoCAD can also produce an STL. At the end of the day, an STL is an STL. Whether or not it will successfully print what you want will depend upon how well it was modeled.
3D Assemblies – Solidworks is the clear winner when it comes to doing parts assemblies. An "assembly" is when you take all the little parts you just spent hours modeling and then put them all together in 3D space. The Solidworks "mate" functions enable you to put precise restrictions on how parts fit into one another and relate to one another.
You can even go so far as to put an engine together and then watching it run in a 3D simulation with all the parts moving as they are designed to. AutoCAD can only put 3D objects together and isn't capable of these fantastic relationship functions.
Printable Sheet Sets – The machinist or contractor who builds what you've painstakingly designed isn't going to be pulling it up on the software, in most cases. He is going to need a set of drawings that clearly communicates all the details.
Again, AutoCAD is capable of representing parts and assemblies on sheet sets. However, Solidworks has specific functions and features that allow you to express machine assemblies more efficiently on printed pages than AutoCAD. One of the coolest of these is the "explode line" tool.
You can put your model together, and then as you take it apart, it creates dashed lines that show you where the part just went. The final deliverable is an image showing what piece goes where.
3D Simulations – Again, AutoCAD can't do any simulations. Solidworks can simulate mechanical operation, fluid dynamics, and even the environmental impact of the machines you're modeling.
4. Price
| | | |
| --- | --- | --- |
| Product | Regular Price | Discounted Price |
| AutoCAD | $1,690/year | Check here |
| Solidworks | $3995 license + $1295/year | No Discount |
| Autodesk Deals & Packages | varies | Check here |
Winner: It Depends (See Below)
Free Trial – Both AutoCAD and Solidworks offer 30-day free trials.
Student Edition – Solidworks provides a student version for $150/yr, whereas AutoCAD (and other Autodesk products) are free for students and educators. Of course, you'll need to prove it… Also, keep in mind that the student editions usually have less functionality.
Limited Technology (ex: AutoCAD LT) – If you don't need to do any 3D modeling, then go with AutoCAD LT. It is a much better price. You can pay monthly or as an annual subscription: $420/yr.
Standard Subscription – AutoCAD's standard subscription is $1600/yr and includes upgrades and customer support. Solidworks also gives updates and support for $1295/yr for the subscription fee, but you also need to buy the license for $3995.
Professional Subscription – Solidworks Professional: $5490 for the license and $1495 for the maintenance fee. The additional features of Solidworks Premium include Photorealistic Rendering, Part Libraries, Circuit Works, PDM Standard, Cost Estimation, and Advanced Simulation. AutoCAD doesn't have a "professional" edition. Instead, they have several sets of more specialized toolsets for different industries such as Plant 3D (for piping), Mechanical, Electrical, MEP, Architectural, Map 3D, and Raster Design.
Premium Subscription – Solidworks Premium costs $7995 for a license and $1995 per year. Its features include Pipe/Tube/Duct/Wire Routing, Environmental Impact Analysis, Structural Part & Assembly Analysis, Advanced Surface Flattening, and more Advanced Simulation tools. AutoCAD doesn't have options that parallel Solidworks' premium options. The price comparison breaks down at this point because Autodesk offers many other kinds of software and packages.
Bulk Licenses – Both companies offer discounts for buying licenses in bulk.
Pricing Table: (Note: Solidworks does not give pricing information unless you submit an inquiry on their website. A reseller will contact you.)
| | | |
| --- | --- | --- |
| Version | Solidworks | AutoCAD |
| Free Trial | Yes | Yes |
| Sudent Edition | $150/yr | Free |
| Limited Tech (LT) | NA | $420/yr |
| Standard | $3995 license + $1295/yr | $1600/yr (annual upgrade included) |
| Professional | $5490 license + $1495/yr | NA |
| Premium | $7995 license + $1995/yr | NA |
| Bulk Licenses | Yes | Yes |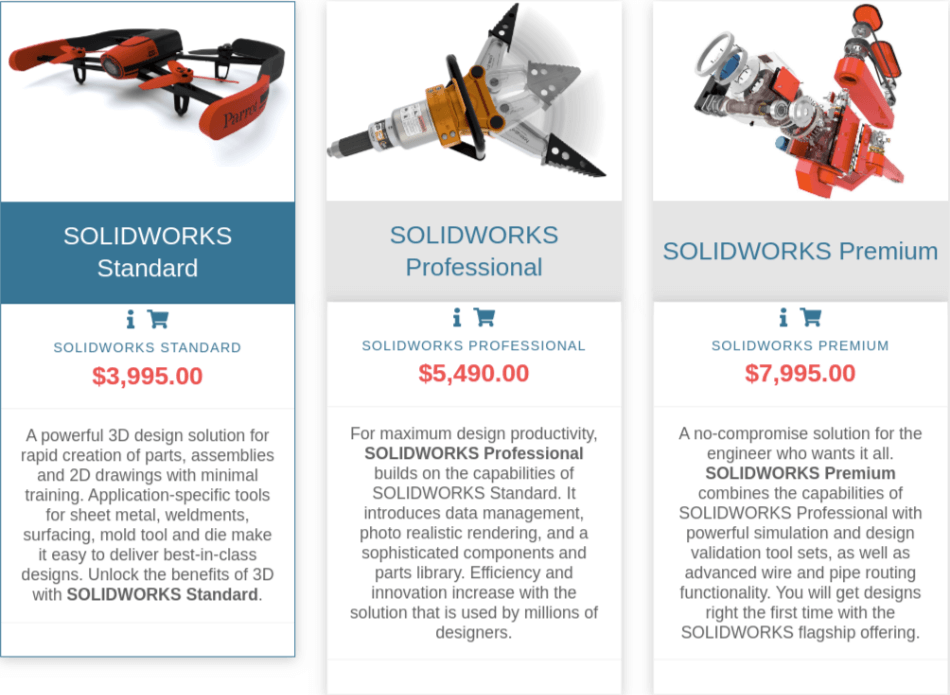 5. Viewing Apps
Winner: Tie (but a Viewing App makes more sense for Solidworks, in my opinion).
While the software itself is expensive (majorly expensive…), both companies have developed free apps to view a drawing/model without modifying it. This works especially in Solidworks' favor.
AutoCAD drawings are usually tricky for a client to understand unless you have already arranged the data on sheets. For these kinds of drawings, you don't need a viewing app, you just need a PDF. In the case of Solidworks, however, the deliverable may be a 3D image or a simulation you can show to your client. Solidworks also lets you create an interactive model.
If you've modeled some kitchen cabinets, for example, you can use the viewer to show the drawers and doors opening. If you model an engine, you can show the engine running. You can also orbit around the exploded 3D model, instead of just a picture of the 3D model from certain angles.
6. Mobile Apps
Winner: Tie.
Both software companies offer apps that allow you to view and modify drawings via a smartphone or tablet. I personally cringe at the idea of drafting something on my smartphone, and you probably feel the same way. (If you don't, then you should…)
However, consider this scenario. Let's say you are out in the field measuring something for a new project. Suddenly, your boss or client calls you and really really really needs something fixed or changed ASAP! When this happens to me, I usually have to run to a coffee shop, pull out my laptop, make the changes, and then send the file.
This can throw off my day and keep my client/boss waiting, tapping his foot and biting his fingernails until I can finish the changes. Well, with the mobile app, I can make the same tiny little changes on my phone and email the updated file. The more I think about it, the more I realize that this happens pretty often…Maybe I should get the mobile app, after all.
7. Community
Winner: Solidworks.
Solidworks strikes me as a "crowd favorite," so to speak. When you do a quick search on YouTube for instructional videos, you will find some great (and even funny) content. Solidworks just seems to be popular… almost…viral.
The community of drafters and modelers tend to share their content, so you can draw from pre-modeled parts and pop them into your model.
8. Training
Winner: Tie. When it comes to learning the ropes with either of these software platforms, there are plenty of tutorials and online lessons available. You can go the route of training through Autodesk & Dassault Systems, or you can stick with independent YouTube content.
Final Thoughts
Don't buy Solidworks without comparing it to Inventor
While AutoCAD is much less expensive than Solidworks, it may not be the right product for you. Let me dissuade you from making the mistake of buying the wrong software.
If you are a professional machinist or product modeler, I urge you to compare Autodesk Inventor with Solidworks. Here are the primary reasons why you should be comparing Solidworks to Autodesk Inventor instead of AutoCAD.
Solidworks/Inventor are Next-Gen 3D Modeling Technology
AutoCAD was developed in 1982 for drafters back when 3D computer technology was still sucking on a bottle. It has been through many enjoyable and beneficial upgrades that made it into the refined drafting technology we have today.
Solidworks was first released in 1993, eleven years later, and was developed for a different purpose. In the same way that AutoCAD has adapted to the needs of its users, we will continue to see Solidworks doing the same. The same is also true for Inventor.
Solidworks & Inventor are pushing the limits of freedom and intuition
The more intuitive the software, the fewer the limits a person has on their creativity. Have you ever seen the movie "Minority Report?"
Do you remember when Tom Cruise's character was using those gloves to sort through all that raw data from the Pre-Cogs (the fortune tellers in the pods)? It reflects the innovation that we are heading toward when it comes to User Interfacing. Again, the same is true for Inventor.
AutoCAD could become your career ceiling
With all the other offerings developed by Autodesk, AutoCAD just isn't going to change much in the future. The other offerings are specialized for particular needs and industries.
If you get the AutoCAD subscription for 3D modeling, Solidworks/Inventor may later develop some revolutionary technology, leaving you unable to make the transition.
Why? Because you've already put your time and energy into learning a particular software. But while technology has been evolving, you've been using the same tools, which might lead to labeling you as antiquated and out-of-demand.
The industry might not need your expertise anymore when this happens. By the time you realize you're being phased out, you may not be able to get up the learning curve to switch to different software.
Are you going to be a freelancer?
I am a freelancer, and I have noticed that the demand for AutoCAD skills is far less than for Solidworks/Inventor. Most of the jobs posted for draftsmen are for 3D modeling. A lot of freelance stuff is up for grabs, so you need to consider what is in high demand.
Understand what your clients need
Being able to use the software is only half of the work. There's a lot more it takes to be a successful draftsman. You need to know what your clients need. Without understanding the industry requirements, you won't be useful to an employer.
For instance, if you draft irrigation designs, you need to know something about irrigation. If you model parts for an engine, you need to see how those parts are made and how your 3D model helps the machinist or fabricator. You need to know how your "deliverable" (remember that word?) actually helps a client.
The only reason you are drafting something is because someone needs the drawing/model. You need to understand them.
Specialize in an industry
When it comes to being a draftsman, specialized skills earn you big bucks. People hiring you need your help because they can't do what you can do. They can't produce the deliverable that you can. However, they also can't hold your hand every step of the way.
That is why the highest-paid draftsmen are also those with an intuitive understanding of a particular field. I once interviewed for a position drafting irrigation designs. However, it didn't work out because the client needed me to have a more advanced understanding of how to design the system. What he really needed was an irrigation designer/draftsman.
He recommended I get certified in Irrigation Design by the Irrigation Association. For another example, an interior designer who can't draw her ideas is just as useless as a draftsman who can't represent interior design concepts.
In Summary
AutoCAD and Solidworks are not parallel software for a good apples-to-apples comparison. The real comparison should be between Solidworks and Autodesk Inventor. For general drafting purposes for both 2D and 3D concepts of all kinds, AutoCAD is the winner.
Solidworks is the clear winner for developing sophisticated machinery or other 3D objects. Consider your needs and long-term goals. If you're making a career out of drafting, then consider some of my "final thoughts." Be sure you don't make a mistake and spend a lot of time and money learning/acquiring software that doesn't fit your purposes.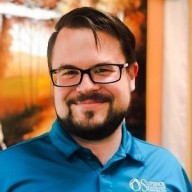 Chris Graham is an experienced Computer-Aided Design (CAD) draftsman and a writer. He has extensive knowledge of almost all the top CAD software available on the market these days. From simple tasks to developing a professional CAD drawing, he can do everything.
He also has a Bachelor of Architecture (B.Arch.) (Landscape Architecture & Civil Engineering) degree from the Louisiana State University School of Architecture and Design. He has worked at the Corporate Green Landscape Management where his duties included landscape design, irrigation design, landscape installation, CAD drafting.