(Last updated on January 9th, 2023)
Solid Edge or SolidWorks, which software is better in 2023? Read this ultimate Solid Edge vs. SolidWorks comparison to make a smart decision.
When I was first challenged with the task of writing an article about Solid Edge vs. Solidworks, I wasn't sure what to think. Mainly because I'd never heard of Solid Edge. Have you? Well, probably so because otherwise, how would you have found this article?
So forgive me, because I had never heard of it. If you are familiar with Solidworks, then all I can say is that it is a direct competitor with Solidworks and boasts many of the same functions as Solidworks.
A quick google or Youtube search for Solid Edge or Solidworks will quickly reveal that Solidworks has a commanding presence versus Solid Edge.
The rest of this article's tone will be the same as what you've just read above; Solid Edge is almost the same as Solidworks. Solidworks is more popular and has a much larger online community. They are very similar in price, too.
So, for all practical purposes, if you are reading this article to find out which is better, Solid Edge or Solidworks, you might just flip a coin.
While researching Solid Edge, I tried checking out some lessons on Lynda, only to find that there aren't any. Hmm…this wasn't looking promising. I also searched Udemy and, of course, Youtube to get my research going with some tutorials. Luckily, I found some; otherwise, this would have been a concise article.
The Verdict
Solidworks and Solid Edge are very similar in price, utility, UI, modeling techniques, and function. However, Solidworks has a commanding lead in the worldwide CAD industry and has a much bigger online community. Despite its popularity, Solidworks is significantly cheaper than Solid Edge.
If I were choosing between the two, I would pick Solidworks. Solid Edge and Solidworks are very similar in price, utility, UI, function. You name it! I expect Solidworks to stay on the cutting edge year after year because an innovator and a brilliant businessman created Solidworks.
The creator of Solidworks took a small fortune that he won playing Blackjack and turned that small fortune into a massive fortune by creating Solidworks and then selling it to Dassault Systems. I love Solidworks' story, and I also love how this program is a leader in the CAD industry.
On the other hand, Solid Edge is a viable option, for sure, but where's the "pizzaz"? Should pizzaz be the deciding factor for you? Sure! Why not? They are so dang similar, why wouldn't you pick the one with pizzaz?
Get up to 70% Off on Top Products!
---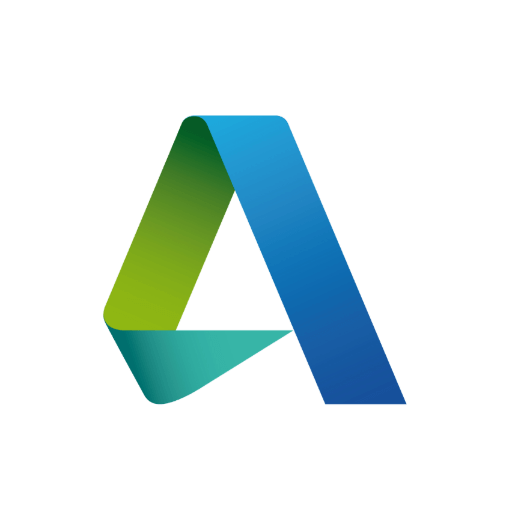 Autodesk
See the latest Autodesk deals, discounts, promotions, and bundled packages. Save up to 70% on top products!
at autodesk.com
---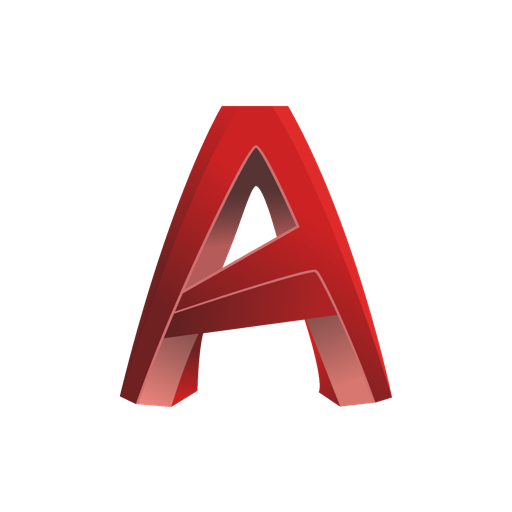 AutoCAD
AutoCAD is one of the most powerful 2D and 3D CAD software out there.
at autodesk.com
---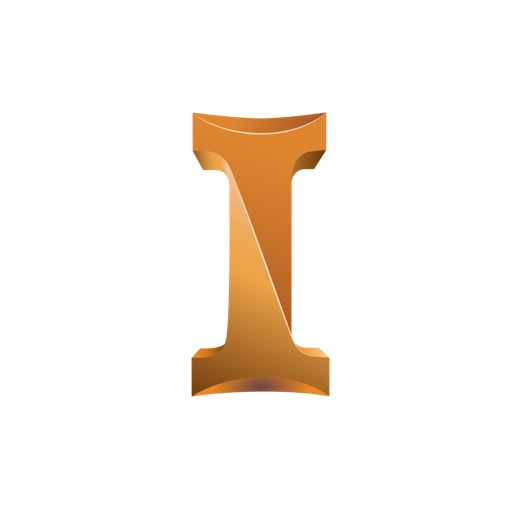 Inventor
Inventor offers industry-standard product design and engineering tools for 3D mechanical design, visualization, simulation, and documentation.
at autodesk.com
---
"Synchronous Technology – Solid Edge's Game-Changer?"
So as I continued to research Solid Edge, I thought I had stumbled across a USP (Unique Sales Proposition) that would help distinguish Solidworks from Solid Edge. I thought to myself, "That's a fancy word, maybe it is unique to Solid Edge."
However, I rolled my eyes as I realized that "synchronous technology" is just the term Solid Edge has used to "spin" their technology as unique.
In reality, "synchronous technology" is the same as "parametric design," which is what programs like Inventor, Fusion 360, and Solidworks all use as their foundational modeling method.
So, yet again, I find myself biased towards Solidworks, but you could honestly flip a coin and probably get the same technology with either Solid Edge or Solidworks.
Parametric Modeling
It took me a while to research various CAD software before I understood the definition of parametric modeling. I should have just looked up the definition in the dictionary. The root word of "parametric" is "parameter." Miriam Webster has several definitions, but I'll use this one:
Parameter: n. 2: any of a set of physical properties whose values determine the characteristics or behavior of something.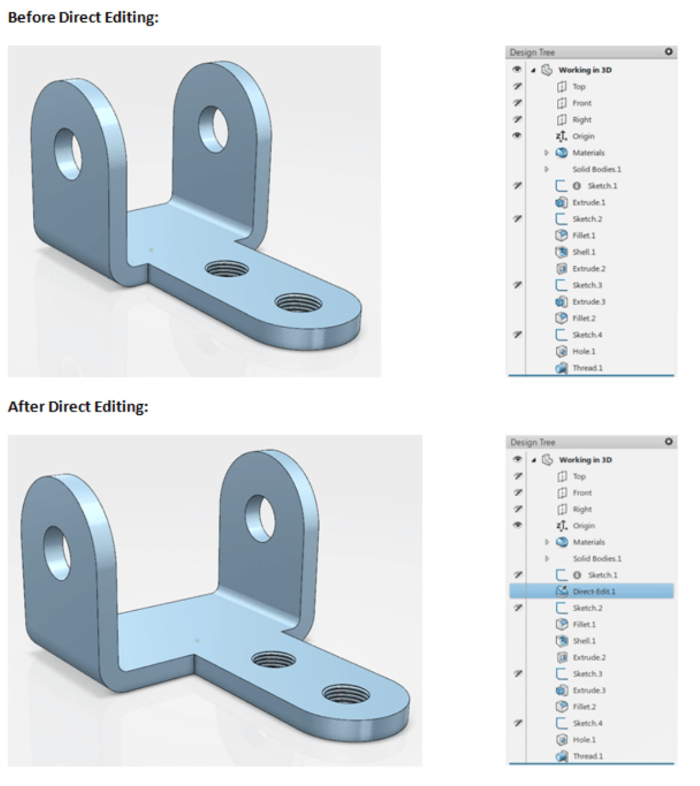 (In the example here, several parameters are set, while other values are variable. Changing the width of this part doesn't change the other parametric values.)
So, if I am designing a handle on a power tool, the handle grip could have many different shapes and styles and could also be made of many different kinds of materials.
However, if I already designed the rest of the tool, and our design team has decided that the grip will be mounted on a steel rod that is 2cm in diameter and 13cm long. In either Solidworks and Solid Edge, I would define the parameters of the inside hole of my grip to be 2cm diameter and 13cm long.
Also, whatever means we decide to use to attach the grip to the rod would be parametrically defined. Now, once those parameters are set and locked in place, I would be able to model the grip into whatever shape I want.
I would also be able to modify many different shapes and aspects of the 3D model, and the parametric aspects would never change. The model would change "around" the parametric limitations. This allows freedom when it comes to modeling, and it is why people love Solidworks.
For Solid Edge to try to pass their parametric modeling style off as "unique" by simply using the term "Synchronous Technology" is slightly cringe to me. Shame shame Solid Edge…
Despite the Bias
Alright! So despite my bias towards Solidworks, I have to admit that Solid Edge is a perfectly good professional software that is practically the same thing as Solidworks.
So with that being said, the head-to-head criteria comparison are all going to be tied. For those of you who are new to the concept of parametric modeling programs, reading the criteria will help you understand how Solidworks works.
Is it possible that with an extensive comparison, I could find some subjective areas that one program is better than the other and highlight those? I've been trying to do so, but I haven't seen any.
Yes, I am sure I could form some such opinions, but those would be ultimately subjective. The overall truth is that these programs are competitive analogs of one another. They are made to be the same.
Solid Edge vs SolidWorks: Head-To-Head Comparison
| | | | |
| --- | --- | --- | --- |
| Criterion | Solid Edge | Solidworks | Notes |
| Price | N/A | Winner | Solidworks still has some perpetual licensing options. Solid Edge's annual licensing is more expensive (fear-for-feature) |
| Learning Curve | Tie | Tie | Both take a lot of work to become truly proficient in. |
| UI | Tie | Tie | I personally prefer Solidwork's style |
| Modeling | Tie | Tie | Parametric modeling techniques |
| Materials | Tie | Tie | Application of material qualities to modeled parts |
| Stress Analysis | Tie | Tie | It depends upon which package you choose, but both programs can run fluid dynamic simulations, temperature simulations, drop tests, force tests, etc. |
| CAM | Tie | Tie | Simulate various industry-standard CAMs |
| Rendering | Tie | Tie | Use Keyshot for photorealistic renderings with either software. |
| Electronics & Wiring | Tie | Tie | Requires certain packages for full functionality. |
In-Depth Considerations
1. Price
| | | |
| --- | --- | --- |
| Product | Regular Price | Discounted Price |
| SolidWorks | $3,995 license + $1,295/year | No Discount |
| Solid Edge | $2,220/year | No Discount |
| Autodesk Deals & Packages | varies | Check here |
Winner: Solidworks
Pricing is complicated for each of the programs, mainly because Solid Works doesn't officially post their pricing, so this information is what I've researched "through the grapevine," so to speak. Also, this information may not be up-to-date any longer.
Solid Edge Packages:
| | | | | |
| --- | --- | --- | --- | --- |
| Package | Monthly | Annually | Annual Savings* | Notes |
| Design & Drafting | 100 | 900 | 300 | Basic modeling capabilities & minimal simulation tools |
| Foundation | 230 | 2220 | 540 | Adds sheet metal design, and frame / weldment design onto the Drafting & Design Package |
| Classic | 290 | 2760 | 720 | Adds FEA (Finite Element Analysis) simulation, Keyshot for rendering, and adds more advanced mechanical parts design and simulation. |
| Premium | 420 | 3940 | 1100 | Adds many features, including advanced simulation, electronic routing, plumbing/tubing design, etc. |
(*Annual Savings represents how much you would save per year by signing up for annual subscription versus monthly.)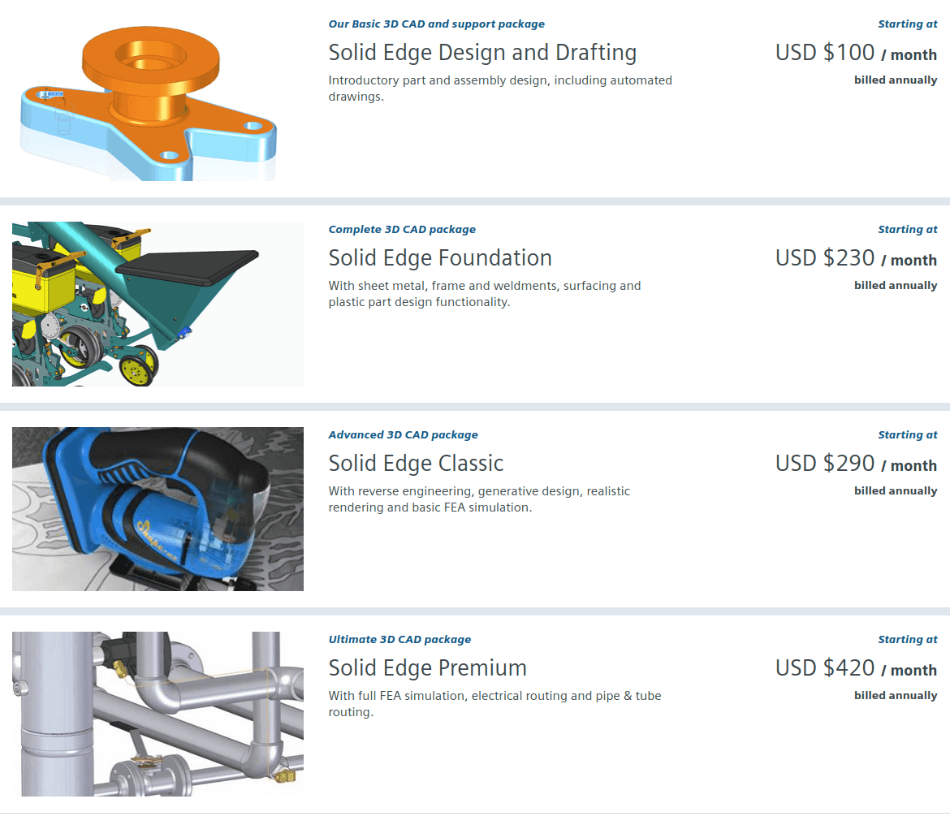 Solidworks Packages:
To my knowledge, Solidworks doesn't have a monthly subscription option, but the option for perpetual licensing is still available. The industry is shifting to subscriptions, so don't expect Solidworks to operate like this forever.
| | | | |
| --- | --- | --- | --- |
| Package | Annual | License | Notes |
| Standard | 1295 | 3995 | Includes modeling tools, sheet metal and mold design, some simulation tools, 3D animation, and basic rendering. |
| Professional | 1495 | 5490 | Adds on photorealistic rendering, costing functionality, reverse engineer parts from a scan. |
| Premium | 1995 | 7995 | A vast array of features, simulation, electrical routing, stress analysis, electrical circuitry design. You name it, and Premium can do it. Take note that Solidworks Premium is less expensive than the Foundation Package of Solid Edge. |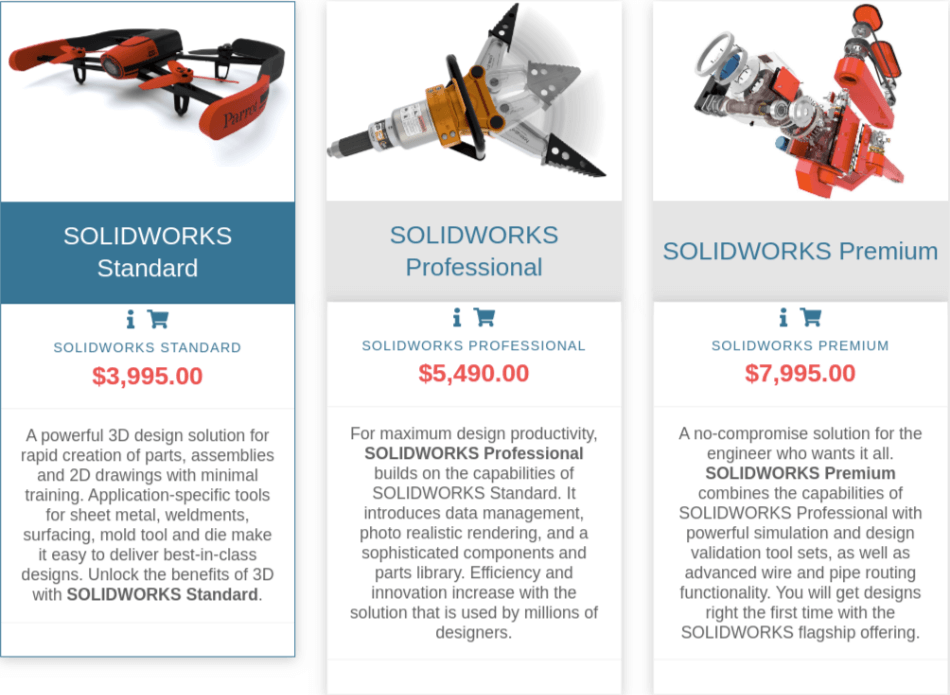 2. Learning Curve
Winner: Tie
It will take a lot of work to become proficient at modeling and understanding materials and fabrication well enough to design a fully functional product prototype. Best of luck to you! You are welcome to rely on YouTube, but nothing beats an instructor-led class followed by real-world work experience.
3. User Interface
Winner: Tie
I'm so tempted just to be biased here and say that Solidworks is the winner. In reality, Solidworks "feels" better and has pizzas and is more comfortable. I feel it is just designed better. Overall, however, this is based on a lot of small subjective things that I can't quantify, so I have to call it a tie. (But I don't want to…)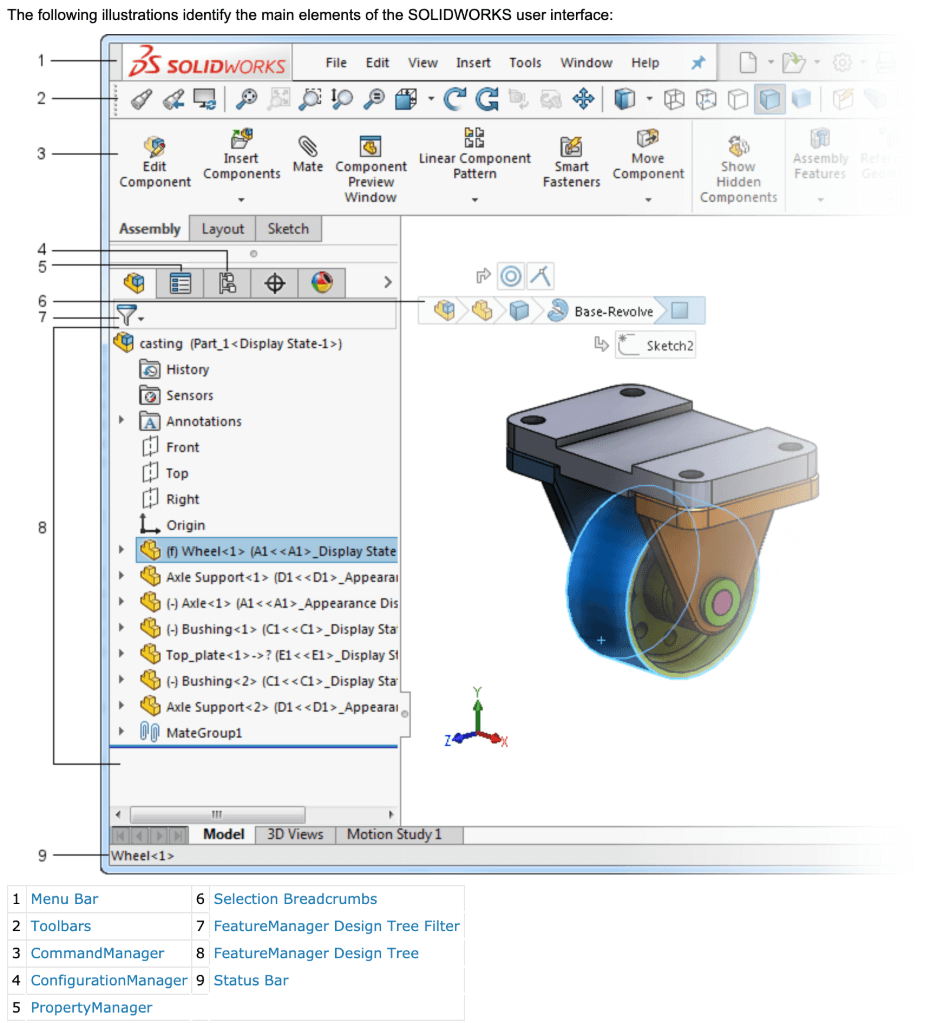 4. Modeling
Winner: Tie
Modeling in Solidworks and other parametric programs like Solid Edge, Inventor, and Fusion360 is fun and satisfying. They all feature the same fundamental sorts of tools and methods to restrict specific parameters while allowing the rest of the part to be formed and shaped.
Many of these programs are starting to incorporate AI to design parts based on the parameters.
5. Materials Simulation
Winner: Tie
CAD software these days are blurring the lines between virtual and physical. You aren't just modeling things that look like parts. You are modeling things that think like parts as well. Assigning materials to your models is the foundation of simulation and stress testing.
The materials are given physical properties such as flexibility or brittleness, thermodynamics, break strength, etc. Every physical aspect of materials are applied in these programs, allowing for the computer simulations.
At the most advanced level, you can run a temperature and fluid stress test through something as sophisticated as an airplane engine to see if it will be able to get a plane off the ground.
6. Stress Analysis
Winner: Tie
Solidworks and Solid Edge can both be used to perform advanced stress tests on products and parts. What kind of physical conditions will your product or part undergo? Nothing is invincible, so how much can your design take before it breaks?
What is the weakest link in your design, and how can you fix it? Simulations can tell you what the weak spot is, and also how to fix it. Conversely, you can use these simulations to remove unnecessary sections from your parts to reduce weight and material use.
There are several different simulations that are critical for developing certain products. First, the drop test can calculate the impact of dropping your product onto various surfaces from various heights to see how much damage it can take from a fall.
Second, the stress test can simulate the operational forces acting on different parts of your product to see if it can operate without breaking down.
Third are the fluid tests. Will your engine be able to transport gasoline, vaporize it, and handle the force of the tiny explosions going on in the pistons? Let's crunch some numbers and find out!
7. CAM
Winner: Tie
When it comes to manufacturing, you need to plan efficiently to reduce waste and manufacture-time. That's where CAM simulations can come in handy. Solidworks and Solid Edge feature CAM simulation tools to help you plan the process out.
How many parts can you get from one sheet of sheet metal? Is there a way to modify the design so that you can get four of those parts out of one sheet instead of just three?
CAM is critical to real-world product development. Without CAM, your model will always remain a model and will never become reality. Solidworks and Solid Edge have a library of industry-standard CAM simulators to see which machines will best produce your products.
How is that part made? Is it a steel lathe? Is it a laser cutter? Will you need a waterjet machine, perhaps? What kind of raw material will your part be shaped from? Is there a more efficient way to model your part to reduce manufacturing expenses?
Again, neither of these programs were developed for the fun of 3D modeling, they were developed to get the job done.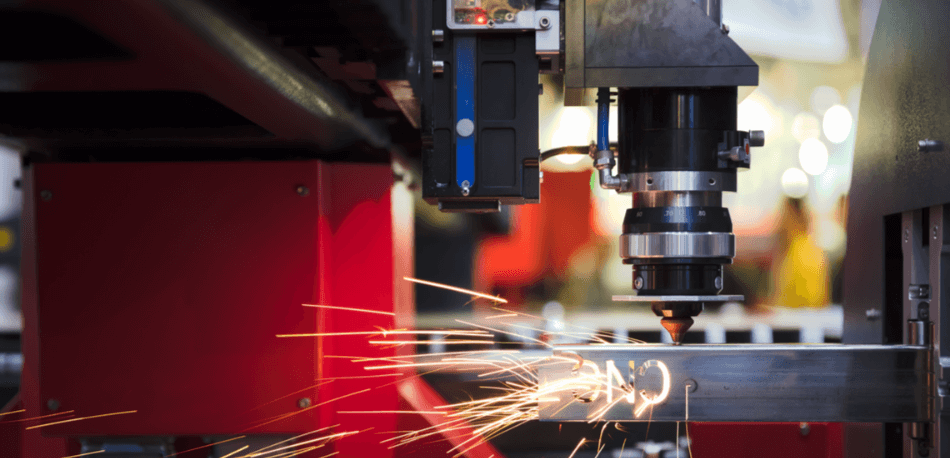 8. Rendering
Winner: Tie
When it comes to mind-blowing photorealistic rendering, Keyshot is one of the best applications out there. If you want to produce the highest quality renderings, then go with an application like this. Solidworks and Solid Edge are both compatible with Keyshot. Therefore, this category is a clear tie.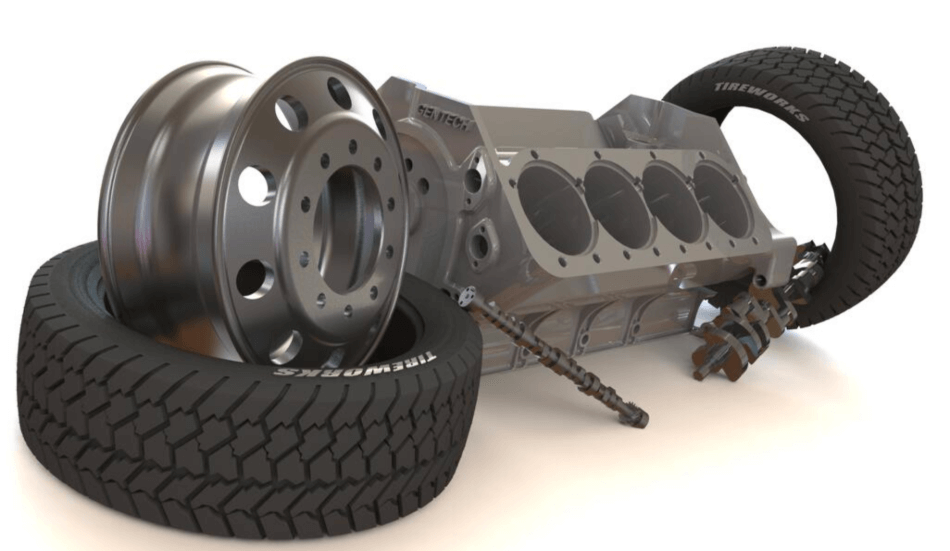 9. Electronics and Wiring
Winner: Tie
You won't get very far in your product design if you can't get it to function. Are you producing a fresh new electronic device? Then you're going to need circuitry and wiring. Solidworks and Solid Edge both offer tool packages to help design the wiring and circuitry for your designs.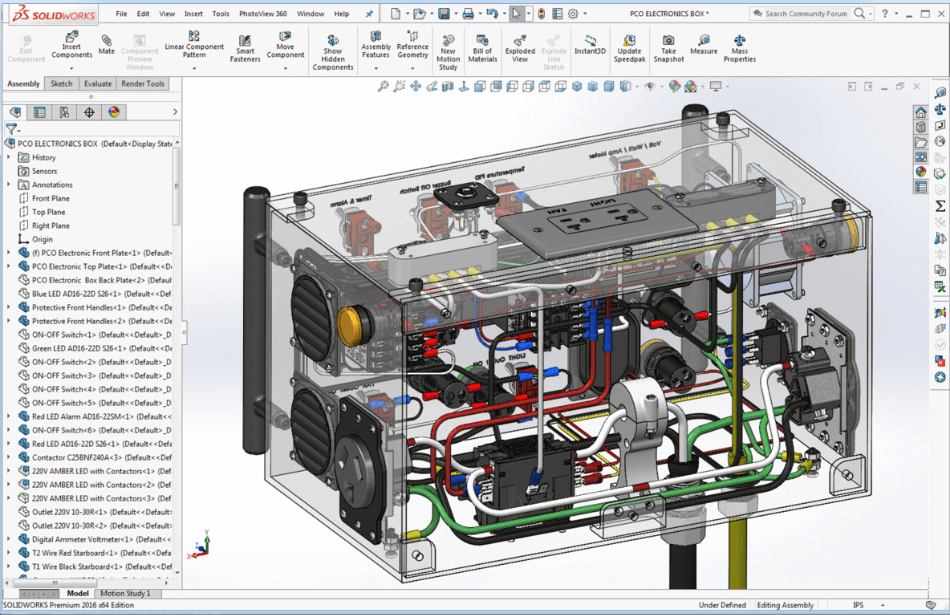 Summary
So let's summarize this rather anti-climactic comparison between Solid Edge and Solidworks. I maintain that when it comes to the practical necessity of the software itself, both of these applications can do everything that the other can do.
After all, they are direct competitors and strive to out-do one another. As a result, they will always be keeping up with one another. So how do you choose between the two? There are a few ways to think about it;
You can believe me and many others who are biased towards Solidworks and just believe me when I tell you that I prefer Solidworks over Solid Edge.
You can consider some of the things I said earlier, in particular, that I had never even so much as heard of Solid Edge before making this comparison, so that doesn't bode well for Solid Edge.
You can download the trials for both programs and see which one is better Solid Edge or Solidworks.
You can consider that Solidworks is outright less expensive than Solid Edge and make your choice strictly based on price.
I have an intrinsic and hard-to-define preference for Solidworks. I'll be the first to admit that I can't quite explain why. The spirit of the software and the man who created it are just preferable to me.
FAQs
Q. Is Solid Edge good?
A. No…maybe…probably.
As I have said already in the above article, I am unabashedly biased towards Solidworks.
However, they are so similar in basic functionality that you can go either way and still get the job done. I had never so much as heard of Solid Edge prior to writing this article, so what does that tell you?
Q. Can Solid Edge open Solidworks files?
A. Yes, you can open Solidworks files in Solid Edge using the "open" command.

(I just had a random thought; Solid Edge sounds like a Metal Gear character…)
Q. What is Solid Edge used for?
A. Solid Edge is a parametric-style 3D CAD software. It is used in the design and manufacture of machine parts. You can design anything from a coke can to an airplane using Solid Edge.
Q. How much is a Solid Edge License?
A. Pricing starts at $3995 US. Pricing is proprietary information, so there isn't an official price for this software released by the company that produces it. It is typically purchased through third-party vendors worldwide.
Q. Why is Solidworks so popular?
A. I'm happy to see this question on the list of FAQs, but I honestly don't have an answer. You might as well ask "why is gangnum style" the most watched video on Youtube? Seriously! It has over 3.7 BILLION views on youtube!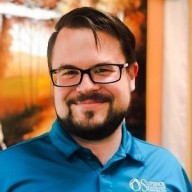 Chris Graham is an experienced Computer-Aided Design (CAD) draftsman and a writer. He has extensive knowledge of almost all the top CAD software available on the market these days. From simple tasks to developing a professional CAD drawing, he can do everything.
He also has a Bachelor of Architecture (B.Arch.) (Landscape Architecture & Civil Engineering) degree from the Louisiana State University School of Architecture and Design. He has worked at the Corporate Green Landscape Management where his duties included landscape design, irrigation design, landscape installation, CAD drafting.