(Last updated on January 9th, 2023)
CATIA or Solidworks; which is better? Read this ultimate CATIA vs. SolidWorks comparison to make a smart decision.
The first thing I want to say is, "Yeesh…" Comparing CATIA to Solidworks is tricky, for sure. A lot of it comes down to business and history more than the practicality. CATIA and Solidworks are owned by the same company and do many of the same things.
CATIA is primarily focused on surface modeling, and tends to be used by the automotive and aerospace industry more often than not. Solidworks is 3D parts and assembly modeling. So if Solidworks and CATIA can do almost the same thing, why does Dassault offer both products?
Why is Solidworks so popular among hobbyists and professionals, whereas CATIA is more specialized for a single industry? I'm glad I asked these questions, and I'd be delighted if you would be interested enough to read the rest of the article for the answers.
History of CATIA
CATIA started as an in-house software for the aircraft manufacturer AVIONS MARCEL DASSAULT. It was used by Dassault to develop its Mirage fighter jet. Dassault is a French company, and CATIA was originally named CATI (Conception Assisteé Tridimensionnelle Interactive), French for "interactive aided three-dimensional design."
However, now that it is more globally recognized, the letters have changed a bit, and now CATIA stands for Computer-Aided Three-dimensional Interactive Application. I feel like that's a little contrived out of respect for its original French name, but who cares what it stands for these days because CATIA has a reasonably significant presence in the international CAD marketplace.
In 1984 (Hey! That's the year I was born!), Boeing adopted CATIA as its primary software for developing its planes. When you have a customer that big who wants to use your software exclusively, it is in your best interest to fit things to their needs. Fortunately for Dassault Systems, CATIA became grandfathered in as their primary software for product development. Who knows if it will stay that way forever.
It would take a massive fumble on Dassault System's part to lose Boeing as a customer. When all your experienced engineers are collaborating in-house with CATIA, all your back-logged airplane designs are in CATIA, and all your new hires are trained in CATIA, then you've got yourself a massive lead against any potential competitors.
Le célèbre logiciel de conception assistée par ordinateur Catia est utilisé par de nombreux secteurs, dont celui des casinos. Ce logiciel permet aux concepteurs de créer des modèles 3D très détaillés de leurs projets, qui peuvent être utilisés pour tout, de la planification et la construction au marketing et à la publicité. De nombreux casinos comme Kahnawake casinoutilisent Catia à des fins diverses, notamment pour créer des visites virtuelles de leurs installations pour les clients potentiels. Cela permet aux clients potentiels de se faire une meilleure idée de ce que le casino a à offrir, et peut les aider à prendre la décision de s'y rendre ou non. En plus de contribuer au marketing et à la publicité, Catia peut également être utilisé pour la planification de la construction. En créant des modèles détaillés de l'agencement du casino, les concepteurs peuvent s'assurer que tout est correctement placé et qu'il n'y a aucun problème potentiel avec la construction. Les casinos et autres établissements de jeux utilisent les logiciels Catia et Solidworks pour concevoir et développer de nouveaux jeux. Ces logiciels permettent de créer des modèles et des simulations en 3D, qui aident les concepteurs à voir comment le jeu fonctionnera dans la réalité. Cela les aide à créer un jeu à la fois amusant et équitable. En utilisant Catia et Solidworks, les casinos sont en mesure de créer des jeux de plus en plus réalistes et divertissants pour leurs clients. La plupart des casinos sont conçus à l'aide des logiciels CATIA et Solidworks. Ces programmes permettent de simuler le casino de manière réaliste, afin que les concepteurs puissent voir comment il se présentera et fonctionnera une fois construit. CATIA et Solidworks sont utilisés pour tout concevoir, de la disposition du sol du casino au mobilier et aux machines à sous. Même les systèmes d'éclairage et de sonorisation sont conçus à l'aide de ces programmes. En utilisant CATIA et Solidworks, les casinos peuvent être sûrs que leur conception sera conforme à tous les codes et règlements nécessaires. CATIA et Solidworks sont deux des logiciels les plus populaires utilisés par les casinos. Ces programmes permettent aux casinos de créer et de gérer des modèles 3D de leurs installations. Cela les aide à planifier et à concevoir des aménagements de casino plus efficacement. En outre, CATIA et Solidworks peuvent également être utilisés pour créer des simulations virtuelles de jeux de casino. Cela permet aux casinos de tester de nouveaux jeux avant qu'ils ne soient proposés au public. CATIA et Solidworks sont deux des logiciels les plus populaires utilisés par les casinos. Les raisons pour lesquelles les casinos utilisent ces programmes sont nombreuses, mais la raison la plus importante est qu'ils permettent la création de modèles tridimensionnels des installations de casino. Cela permet aux concepteurs de casinos de voir à quoi ressembleront leurs bâtiments avant qu'ils ne soient construits, et cela leur permet également d'apporter des modifications à la conception si nécessaire. Une autre raison pour laquelle les casinos utilisent CATIA et Solidworks est qu'ils peuvent être utilisés pour créer des visites virtuelles des installations du casino. C'est un excellent moyen pour les clients potentiels de voir à quoi ressemble un casino avant de le visiter en personne. Les visites virtuelles peuvent également être utilisées par les employés du casino pour se familiariser avec la disposition d'un nouveau casino avant son ouverture. Enfin, CATIA et Solidworks peuvent être utilisés pour créer des animations du fonctionnement d'un casino.
History of Solidworks
What a fascinating history it is! Yes, I'm sure history is the boring part that you didn't want to read about, but I dare ya to read this history! Would you believe that a few games of Blackjack gave Solidworks Corporation its start in Massachusetts? I'm serious!
The Founder of Solidworks Corporation is Jon Hirschtick. (Ok, hold on a minute, let me comment on this dude's name. Seriously, it is ten characters long with only two vowels! I copied his name from Wikipedia because I didn't want to bother trying to spell it! Anyway, back to work.)
Jon played on the MIT Blackjack Team and won $1 million. The guy must have been a genius because most people would have spent it on something stupid. Not Jon! He used the money to develop Solidworks Corporation and Solidworks.
It was so innovative and groundbreaking because of Jon's leadership, Dassault Systems realized they had a serious competitor. If you can't beat 'em, buy 'em! Dassault Systems purchased Solidworks Corporation for $310 million in stocks, and Jon stayed on board with his new owner for 14 years. What a trooper! When I grow up, I want to be just like Jon.
(Below: Dassault Systems offers at least 12 different products and I've only ever heard of two of them.)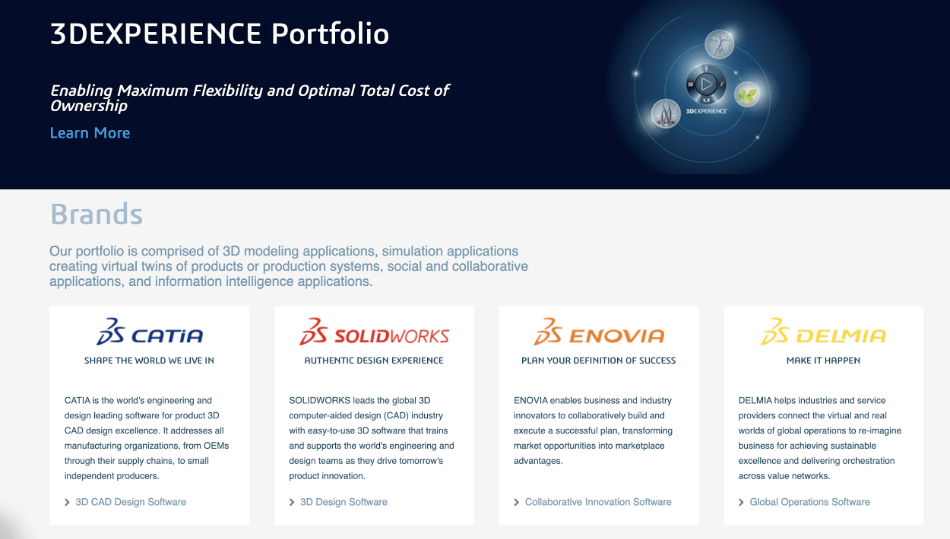 CATIA vs. Solidworks: Noncompetitive Stablemates
It is an excellent idea to own one of your biggest competitors. Realistically, Boeing could just adopt Solidworks, and Dassault systems could tweak it a little and make it a useful surface modeling tool.
Still, for now, CATIA is so steeped in Boeing's company culture that it doesn't matter. CATIA can rake in its hundreds of millions of dollars while Solidworks rakes in its hundreds of millions of dollars. Let's face it, both Solidworks and CATIA are capable of all the same things;
3D design
3D modeling
Parts modeling
Assemblies
Materials simulation
Simulated engineering
Simulated stress testing
Fluids Simulation
Electronics and circuitry design
And the list goes on!
So why even have the two different software as separate entities? I believe it is merely business as usual. CATIA is embedded in the aerospace industry as the standard software, and it will take a significant shift to move to different standard software.
That works out fine for the rest of us because people prefer the intuitiveness of Solidworks. People love it so much that Autodesk has taken to competing with Solidworks via Inventor. Fusion 360 has become my personal favorite because it is reasonably priced, incredibly simple, but astoundingly powerful.
Fusion 360 may become an industry-favorite in the near future because of all the problems it solves that other programs don't. The astounding part to me is how much of an impact Solidworks made on the CAD industry as a whole. I would never have thought that Blackjack would make such an essential contribution to society.
CATIA vs Solidworks: Head-to-head Criteria
| | | | |
| --- | --- | --- | --- |
| Criterion | CATIA | Solidworks | Notes |
| Price | N/A | Winner | CATIA is the most expensive CAD I've ever heard of. |
| UI | N/A | Winner | Developed for user-friendliness |
| Customer Service | Tie | Tie | Both owned by Dassault |
| Learning Curve | N/A | Winner | CATIA is highly specialized for aerospace design |
| Surface Engineering | Winner | N/A | Surface Engineering is critical for aerospace design |
| Assemblies | N/A | Winner | Easy and downright fun to produce |
| Simulation | Winner | N/A | Powerful fluid dynamic simulations critical for airplane safety |
Short Verdict
My vote goes promptly and easily to Solidworks. While researching for this blog, I found it somewhat painful to look at the UI for CATIA. It looks like something from the 1990s! Technically it is from the 1970s, but it has been updated a few times since then.
CATIA is so specialized for Boeing that it is probably done evolving to any significant degree. Solidworks' UI is groundbreaking in the ease of use and how intuitive it is. Have you ever been working on a computer program and thought to yourself, "I wish this thing would just do such-and-such or so-and-so automatically without me having to do all this extra work!"
Well, Solidworks was developed by that lucky genius Jon Hrscisckt (wait…let me copy it again) Hirschtick with exactly these frustrations in mind. At the time, there were particular frustrations that parts modelers were always facing which made them less productive. If you can solve someone's problems and frustrations, you can earn their business.
CATIA, on the other hand, is not intuitive, but it is deeeeeeply specialized for the aerospace industry. When it comes to modeling and manufacturing a plane body or an automotive body that has to deal with wind forces, CATIA is a reliable standard for many people.
Solidworks is the right choice unless you're planning on working for Boeing or a company where CATIA is the standard software. Is that short enough for ya?!
Get up to 70% Off on Top Products!
---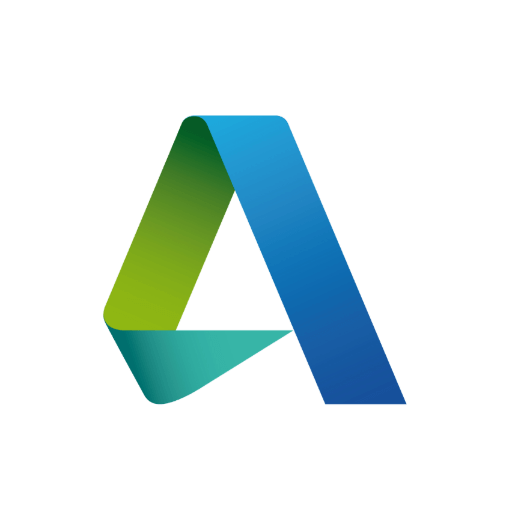 Autodesk
See the latest Autodesk deals, discounts, promotions, and bundled packages. Save up to 70% on top products!
at autodesk.com
---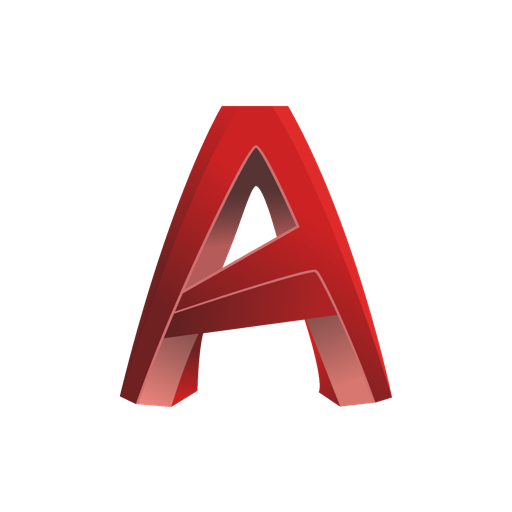 AutoCAD
AutoCAD is one of the most powerful 2D and 3D CAD software out there.
at autodesk.com
---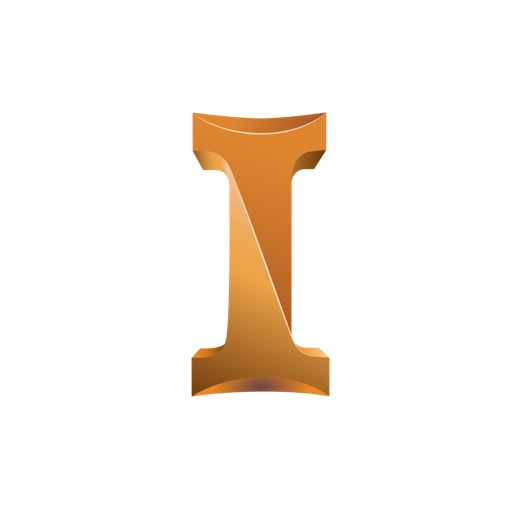 Inventor
Inventor offers industry-standard product design and engineering tools for 3D mechanical design, visualization, simulation, and documentation.
at autodesk.com
---
In-Depth Considerations
1. Price
| | | |
| --- | --- | --- |
| Product | Regular Price | Discounted Price |
| SolidWorks | $3995 license + $1295/year | No Discount |
| CATIA | $9000 – $65000 per license | No Discount |
| Autodesk Deals & Packages | varies | Check here |
Winner: Solidworks, by a considerable margin!
(Note: Dassault Systems plays its pricing information very close to the chest. In fact, I'm not even sure if this information is up-to-date, because I ripped it off of another blog post. I'm afraid that if I post the cost of CATIA, they will put a hit out on me!)
Supposedly, CATIA V6 costs between $9000 and $65000 per license, depending on the modules you get.
Why on God's green earth would you even bother? You know, when I think about it, I'm glad that the people designing airplanes and cars are using the most expensive CAD software on the planet. There better not be a single thing wrong with any plane that I ride in! Oh, and by the way, there's also an 18% annual maintenance fee.
Solidworks Pricing Information
Free Trial – Both AutoCAD and Solidworks offer 30-day free trials
Student Edition – Solidworks provides a student/educator version for $150/yr.
Standard Subscription – Solidworks also gives updates and support for $1295/yr for the subscription fee, but you also need to buy the license for $3995.
Professional Subscription – Solidworks Professional: $5490 for the license and $1495 for the maintenance fee. The additional features of Solidworks Premium include Photorealistic Rendering, Part Libraries, Circuit Works, PDM Standard, Cost Estimation, and Advanced Simulation.
Premium Subscription – Solidworks Premium costs $7995 for a license and $1995 per year. Its features include Pipe/Tube/Duct/Wire Routing, Environmental Impact Analysis, Structural Part & Assembly Analysis, Advanced Surface Flattening, and more Advanced Simulation tools.
2. User Interface
Winner: Solidworks
There's just no comparison, in my opinion. I found it painful to watch the tutorial videos for CATIA because it was only so rudimentary. CATIA looks so out-dated, so you may be wondering why it is so expensive? It comes down to all the engineering-specific tools and capabilities that airplane engineers just can't do without. Before Solidworks, it seems like there were two levels of software:
1) Software that is "user-friendly" to the point of being professionally impractical. (Think Sketchup)
2) Software that is "professional-grade" to the point of being impossible for the average person to learn. (Think 3DS Max)
Solidworks somehow managed to mix both and left a lot of people pleasantly surprised and downright addicted. There is now an expectation of this kind of quality. Well, unless, of course, you are CATIA. I maintain that CATIA's continued presence in the CAD market is due to Boeing's company culture.
(Left: CATIA UI – Right: Solidworks UI)
3. Customer Service
Winner: Tie
Dassault Systems own both applications so that you can expect the same level of customer service. I certainly hope they aren't French because after paying that much for software, only to deal with snooty French people would just add insult to injury. I'm kidding, and I love French people.
4. Learning Curve
Winner: Solidworks
Alright! So I know that in previous articles, I've said how the learning curve criterion is irrelevant because you're going to need to put a lot of effort into learning no matter what program you're using.
However, in this case, I will make an exception. There's nothing intuitive about CATIA, and it takes a buttload of diligent training to learn. Solidworks is noticeably different in that it is both powerful enough for professionals and fun-sufficient for hobbyists.
5. Surface Engineering
Winner: CATIA
This is where CATIA's strong suit lies. It is fun to make cool-looking shapes in a user-friendly 3D environment like Solidworks, but when it comes to critical design features, an airplane's form can't be left to artists.
There are some very cool-looking sculptures in the world these days designed by some talented 3D modelers, but those sculptures aren't intended to fly around and then land safely. The degree to which fluid physics and 3D design are required to produce safe and practical aircraft is the degree to which CATIA wins.
(Below; CATIA rendering)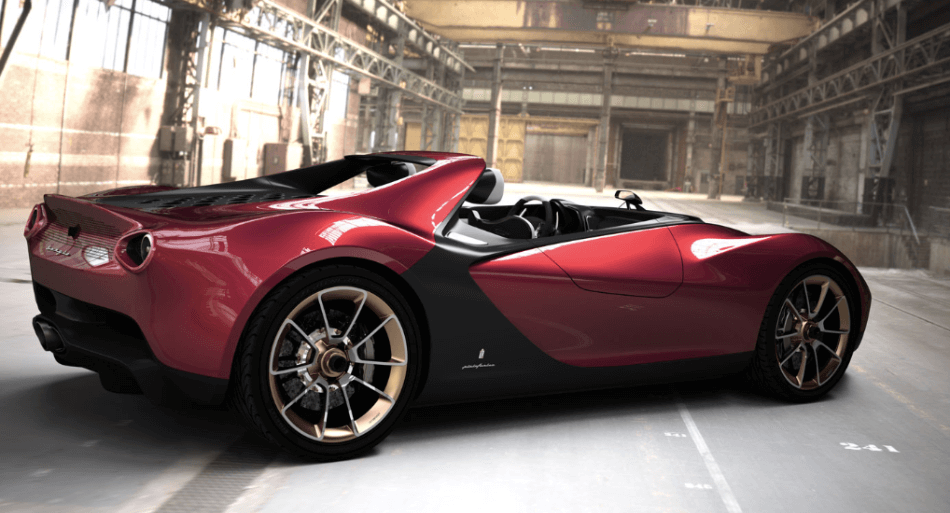 6. Assemblies
Winner: Solidworks
This is one of the more fun and satisfying parts of Solidworks. After modeling all your pieces and parts for your invention, you need to put them all together in a way that matches reality.
The relationship and constraint tools in Solidworks enable you to not only put your creation together, but also watch it function as intended. You can model a bike with the gears, chain, wheels, handlebars, and then watch how pushing the pedal causes everything to move accordingly.
The behavior is built on the physics framework you put together as you tell the parts how to react. As far as I know, CATIA can do similar assemblies, but it is nowhere near as user friendly as Solidworks.
7. Simulation
Winner: CATIA
Again, when it comes to designing an airplane, you need a massive suite of tools for simulating things like cabin air pressure, engine air pressure, drag, lift, etc.
Solidworks has powerful tools, but the simulations necessary to find out whether or not your wireless headphones will break when you drop them is slightly different from the simulations required to find out if your plane will crash. It is a lot of fun to start simulation on a part and see the specific locations of weakness.
If you design a handle, for instance, and then use the simulator to apply 100 pounds of force on the handle, you can see the likely deformation. Then, you can modify the shape of the handle according to the specific points where distortion happens.
You can also test a part to see how much of that part is taking the stress and how much of that part isn't necessary. This enables you to quickly cut away material that isn't needed to make the overall finished product lighter.
(Below: CATIA Simulation tools at work)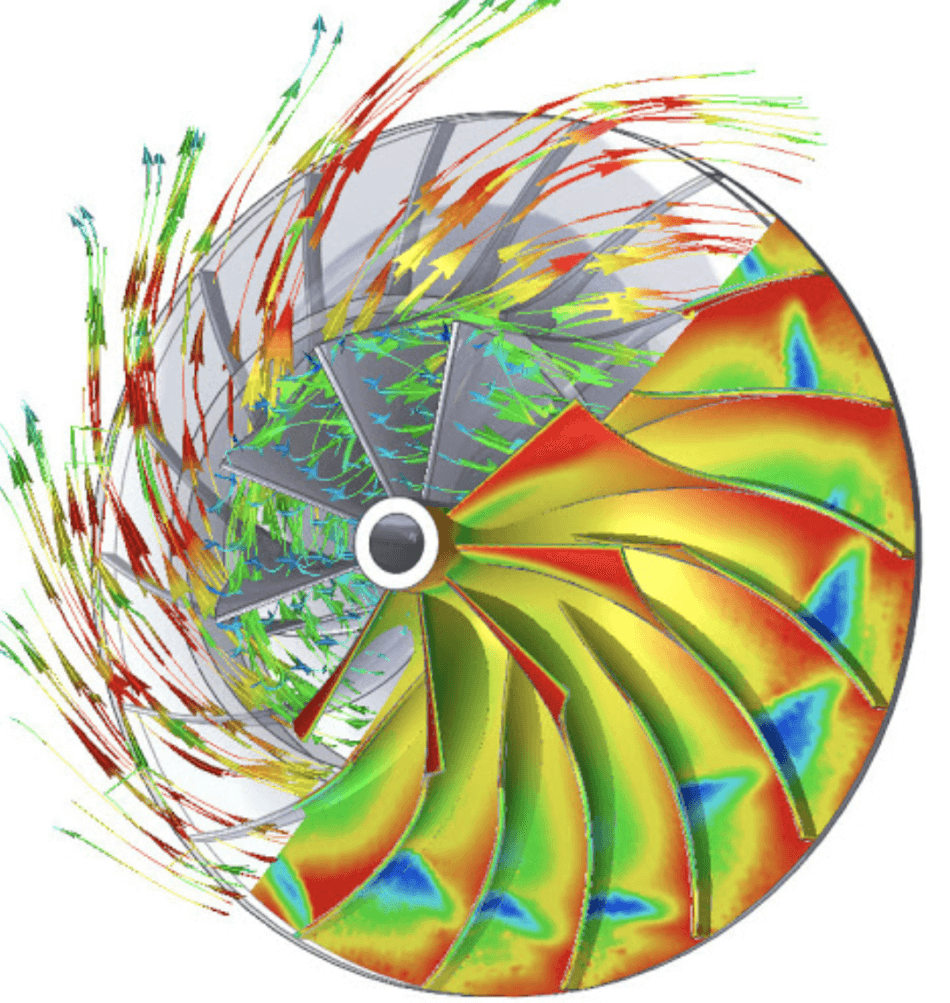 How they Work?
Let's say you want to design a flying drone that can lift 100 pounds? Can you design it in CATIA? Of course, no problem. Can you design it in Solidworks? I believe so. So how would that process work? What would it look like? It would start with some science, some R&D and some design.
How many propellers does it need to get that weight off the ground? How heavy will the engine need to be to get those propellors to spin fast enough to lift off the ground? How much fuel does it need? How long do you want it to last in the air?
There's a ton of questions that will need to be answered. After you've done a lot of research, you will have a much better idea of the parts you need to model and how they would need to be arranged. You design the framework, select the perfect lightweight material that is strong enough to handle the weight and rigors of flight.
You need the propellors modeled, and you need room for the motors and the wiring to all fit inside the casing of the drone. You need the circuitry and wireless parts to connect with the remote control. Oh, and you'll also need to design the remote control itself. After putting it all together, you'll need to run simulations.
I'm honestly not sure if Solidworks Premium can run fluid dynamic simulations well enough to determine if the drone will lift off the ground or not. I am relatively sure CATIA could handle such simulations with no problem.
At this point, you need to run some crash tests as well because sometimes remote piloting goes wrong, and it would be great if this thing didn't get destroyed if it fell from 10 feet. All of these tests can be run from CATIA. After everything is designed, you'll need the parts fabricated.
This is where CAM tools in Solidworks and CATIA come in handy. You will use these tools to determine if the component can be modeled effectively by a CAM and also which CAM is best suited for each part. In no time at all, you've designed a drone from scratch. Congratulations!
Summary
By now, I'm sure you have a clearer perspective of the real difference between Solidworks and AutoCAD. There are millions of different kinds of products that can be expertly designed and tested using Solidworks.
Still, when it comes to engineering a plane reliably enough to ensure that the lives of the passengers are safe, then CATIA takes the prize. At the end of the day, it is just that simple. CATIA is specialized for every imaginable minute detail of aerospace engineering. In the hands of competent engineers, CATIA can probably design the next space-faring craft and take us to Mars.
Solidworks is the brainchild of a brilliant Blackjack player from MIT who had a knack for solving a lot of design frustrations. Solidworks successfully melds ease-of-use with engineering-level tools. It is no wonder why Dassault Systems is such a commanding presence in the CAD world.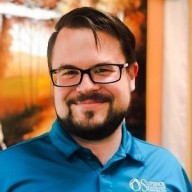 Chris Graham is an experienced Computer-Aided Design (CAD) draftsman and a writer. He has extensive knowledge of almost all the top CAD software available on the market these days. From simple tasks to developing a professional CAD drawing, he can do everything.
He also has a Bachelor of Architecture (B.Arch.) (Landscape Architecture & Civil Engineering) degree from the Louisiana State University School of Architecture and Design. He has worked at the Corporate Green Landscape Management where his duties included landscape design, irrigation design, landscape installation, CAD drafting.